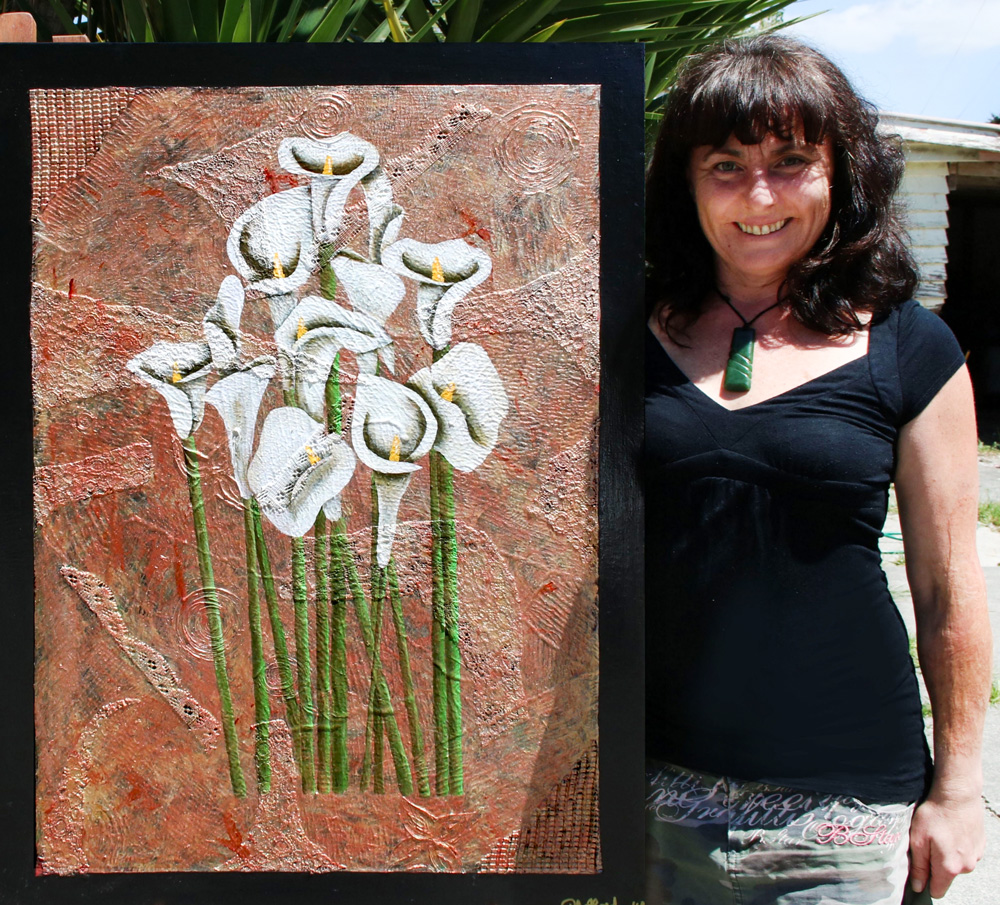 Painting, Mixed Media & Community Arts Facilitator
For as long as Desiree can remember she has enjoyed being creative. Being in the zone is like meditating, it's where Desiree finds her bliss. Art is ingrained in her earliest childhood memories and has carried on well into her adult life. She decided to get serious about art in 2008 when she left her corporate job to study art fulltime for 4 years. Whilst studying she also taught art classes, did private tutoring, and facilitated many community art projects commissioned by Auckland Council.

One element of creativity that excites Desiree is the opportunity to encourage others to experience the joy that comes with being creative. She believes that everybody has the ability to express themselves through art and creativity and gets great pleasure in nurturing this in others. In 2023 Desiree has started offering one day workshops at the Warkworth Women's Centre.

Desiree exhibits her work year-round in the OWL Art Hub in Wellsford. She also exhibits with the Mahurangi Artist Network, Mangawhai Art Gallery and various Auckland exhibitions.
MALALA YOUSAFZAI © Desiree Alexandre 2021
Acrylic & Lace on Canvas
THE BEAUTY OF COLOUR © Desiree Alexandre 2022
Acrylic & Indian Ink on Canvas
STRENGTH © Desiree Alexandre 2022
Acrylic & Lace on Canvas
HEAR NO EVIL, SEE NO EVIL, SPEAK NO EVIL © Desiree Alexandre 2022
Acrylic & Lace on Canvas
OWL Art Hub Gallery - Wellsford
2023 Mahurangi Artist Studio Trail / 2022 Mahurangi Artist Studio Trail / 6-10 community exhibitions per year including the Royal Easter Show Art Exhibition, Mangawhai Art Exhibitions, Mangawhai Art Trail (3 years), Solo Exhibition last year Mangawhai Gallery (Next solo mid next year Mangawhai), Sir Edmond Hillary Art Showcase, Orakei School Art Exhibition, Kaipara Art Awards, Franklin Arts Festival, ARTerslie.