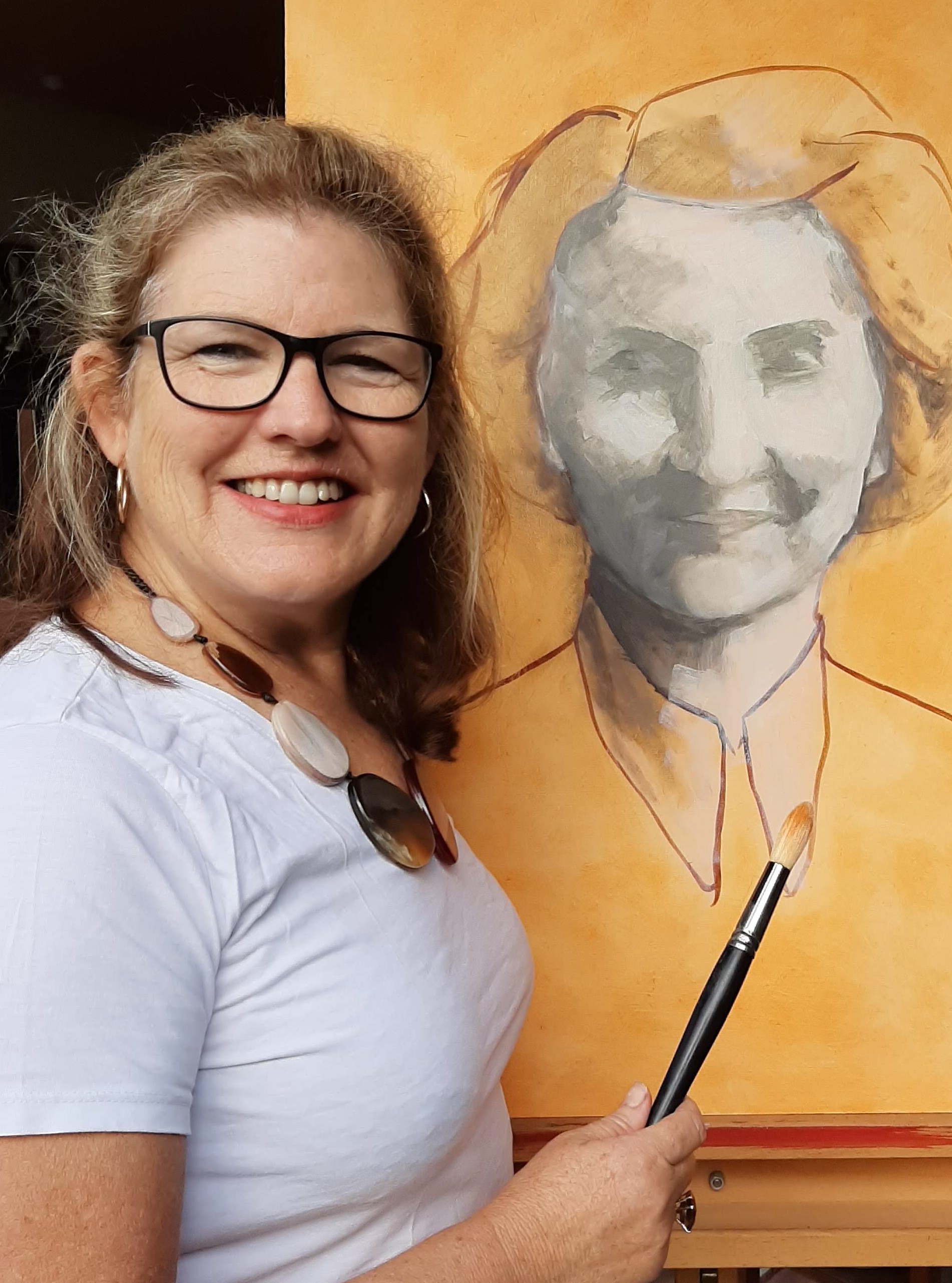 Karena
de Pont
Drawing, Mixed Media, Painting, Sculpture, Textiles
Through her art practice, Karena de Pont questions ideas relating to the human condition, exploring the human physiological journey, what we may reveal or conceal from others, our personal story, the things, events, or places that shape our lives and our reactions to this.

Primarily a painter in oil and acrylic, Karena enjoys the challenge of working on several series of works simultaneously using different techniques, mediums and surfaces including photograph paper, cedar boards and canvas. Her sculptural work often includes found objects as inspiration.

In her spare time, Karena relaxes by playing the guitar, singing, quilting, and gardening.

2023 FLUID -
Small abstract gestural works in acrylics inks celebrating colour and chance.
2022-2023 BURNT OFFERINGS -
Large wall hung acrylic works "painted with fire" on charred recycled cedar boards.
2021-2023 AND IT WAS SAID –
Small abstract works in watercolours and acrylic inks inspired by lyrics, musings, and quotes.
2021-2022 ISLANDS –
3D wall hung sculptural abstract paintings exploring the islands of the Hauraki Gulf and around New Zealand and our relationship with them.
2020-2021 WINIFRED –
Portraiture and paintings in oil motivated by the life story of her mother who celebrated her 100th birthday in May 2020, in these works we are reminded that love, loss, hope, and grief are essential ingredients to a full life.
2021-2022 TALAM BATA –
The Celtic name for Earth Sticks, these sculptural collections of tall painted bamboo poles are informed by colour and pattern, echoed across cultures and time.
2018-2019 ME TOO –
This series of works in acrylic and oils was in response to the movement
denouncing sexual harassment and the impact it has on victims of this abuse.
2018-2017 UNMASKED –
A figure caught in a shaft of light, this series of works in both acrylic and oils explore the corporal and psychological experience of being human.
2017 FROM THE GROUND UP –
Mosaiced Obelisk sculpture using mirror, stone, glass pebbles, and paua shell.
2015-2016 RHYTHM –
The sensation and experience of physical release and enjoyment through dance provided the inspiration for this series of work in acrylics and pastels creating the sense of a body being somehow drawn through space.
TIRITIRI MATANGI ISLAND © Karena de Pont 2022 (ISLAND series) - 2D recycled wood wall hung sculpture work, acrylic
WHAKAARI WHITE ISLAND © Karena de Pont 2021 (ISLAND series) - 2D recycled wood wall hung sculpture work, acrylic
FLUID #10 © Karena de Pont 2023 - Acrylic Ink on Photographic Paper
FLUID #19 © Karena de Pont 2023 - Acrylic Ink on Photographic Paper
RED SHOES © Karena de Pont 2023 (AND IT WAS SAID series) - Acrylic Ink on Photographic Paper
MOVIN' STILL © Karena de Pont 2021 (AND IT WAS SAID series) - Acrylic Ink on Photographic Paper
BURNT OFFERNG #3 © Karena de Pont 2023 - Acrylic on Charred Recycled Cedar Boards
BURNT OFFERING #4 © Karena de Pont 2023 - Acrylic on Charred Recycled Cedar Boards
2014-2017 Browne School of Art
2012-2013 Artstation Foundation Course

2022 Browne School of Art Gallery - "Meraki"- Members show
2022 Mahurangi Artist Studio Trail
2021 Browne School of Art Gallery – "Crackerjack"- Members show
2020 Browne School of Art Gallery – "Passel"- Members show
2019 Finalist in the Molly Morpeth Canaday Painting Award, Whakatane Museum
2019 Browne School of Art Gallery – "Same But Different" – Members show
2019 Browne School of Art Gallery – "This Is Us" group show
2017 Finalist in the Molly Morpeth Canaday Painting Award, Whakatane Museum
2017 NorthArt Gallery – "Assembly" group show
2017 Unity Building – "Unity" group show - Auckland City Council Art Week
2017 Browne School of Art – Painting 4 – End of Year Exhibition
2016 MARTakana Art Exhibition
2016 Browne School of Art – Painting 4 – End of Year Exhibition
2015 Browne School of Art – Painting 3 – End of Year Exhibition
2014 Browne School of Art – Painting 2 – End of Year Exhibition
2012 Artstation - Foundation Year 1 - End of Year Exhibition